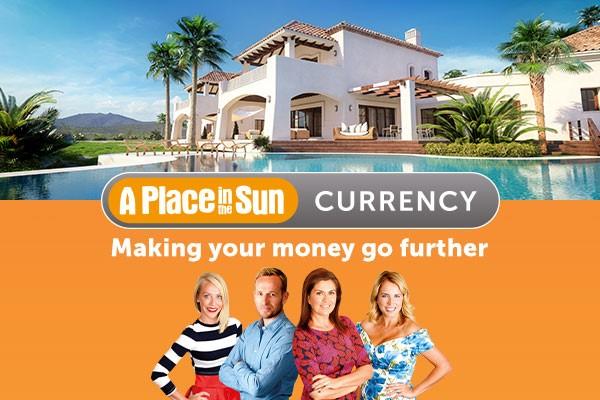 Specialist Currency Exchange APITS
VIP Almería are proud to promote A Place in the Sun Currency as their recommended provider for currency services.
A Place in the Sun Currency is a UK based, FCA regulated specialist currency exchange business, set up specifically to help British property buyers transfer money overseas to secure their very own place in the sun.
The team at A Place in the Sun Currency understands the importance of an efficient and transparent service and will put your mind at ease if it is your first overseas property purchase. They will explain the importance of the exchange rate in your property purchase, and how you can protect yourself from fluctuating exchange rates.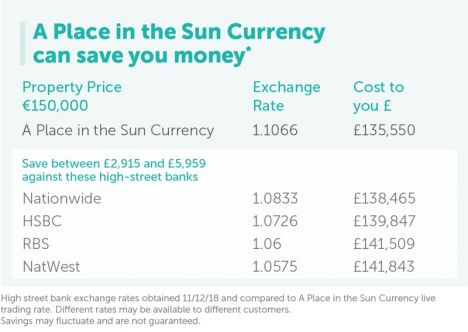 In the illustration on the left, as a client of VIP Almería you could have saved between £2,915 and £5,959 by transferring €150,000 through A Place in the Sun Currency versus some of the leading UK high street banks when buying your overseas property.
A Place in the Sun Currency can help you save money on anything from a deposit on a property through to the final completion, regular monthly payments to cover your mortgage or spend your pension, a new car purchase or simply to pay for any renovations on the property.
In addition to this, you can have your own personal, experienced dealer in the UK to monitor the market for you to help minimise your exposure to the currency markets.
You can even forward buy the currency, protecting yourself against negative fluctuations in the rate, by pre-fixing the exchange rate in advance to cover your future payments so you know exactly how much your property will be costing you.
If you would like more information, please take a look through the website by clicking here