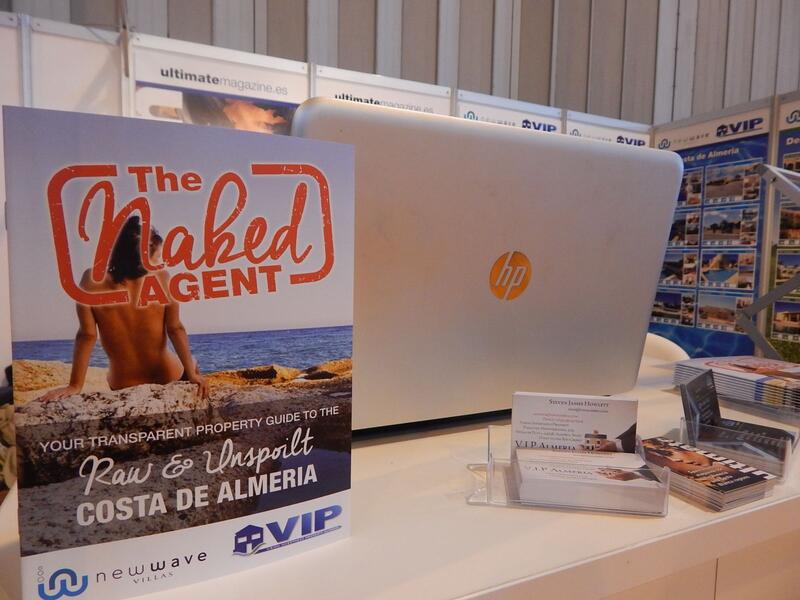 Your Quick-step Guide to Buying a Property in Spain
Buying a property in Spain, be it as a main home, holiday home, or as an investment should be an exciting time in all our lives. Many of us have dreamed of owning a beautiful home in the sunny, warm climate of Spain. All too often, many buyers get caught up in the dream and fail to fully understand the buying basics and the complete Spanish purchase process. As a result, buyers are often confused, wishing they had the right knowledge and guidance from the start.
The V.I.P Almeria Naked Agent guide is designed to give you a transparent overview of the entire process, ensuring that buying your property becomes a simple and efficient task. This guide highlights the details from doing your initial budget and property research, right through to completing on your property and getting settled in! If you have not received a copy of the "Naked Agent" please email us at info@vipalmeria.com and we will send you a PDF version.
The Purchase Process Recommendation:
Step 1: Do your initial research, Have you decided on a particular area? If so, what is your knowledge of the area?
Do some basic online searches to understand the area of preference that suits your criteria. When choosing an agent, check that they are based in the area you want and most importantly they are the listing agent. If you use a third-party agent, this may affect your negotiating power. Always open email communication in advance as this will help the agent offer advice for you consider. Remember in Spain to allow purchase costs on top of the agreed price which is approx. 11% overall.
We cover many Coastal areas so please see a list of the towns on the following link:
https://www.vipalmeria.com/almeria-area-information.html
Ask yourself; Is it a vacation home, forever or to rent? Look at flight paths if it is a holiday home, if you are planning to use it as a rental investment, check the comparable rates achieved in letting sites. If it is a forever home, for non EU members or British citizens, they can move to Spain, retire, and stay for more than 90 days. First, however, they must ensure they have a valid residence permit to move there and provide proof they have enough money to support themselves during their retirement.
Step 2: Decide on your main criteria as this is a personal choice
Is the property for investment or personal use?
Do you want a ready-built property or something off-plan?
Any other details such as schools needed, close to stores, no neighbours, require neighbours, on-site pool services, etc.
Calculate your approximate budget (to include the purchase and mortgage costs if applicable), look at your maximum budget, calculate 11% for taxes and fees.
The timeline is very important so be aware that the typical timeline from offer accepted to notary is 6 to 8 weeks.
Step 3: Understand your budget and affordability
How much of your own money do you have, or do you want to put in to buying a property?
In Spain, if requiring finance, a non resident should budget 50% cash and 60% finance (get pre approved) this is to cover the purchase and allowing at least 10% of the value for the transfer tax, legal, land registry and notary charges.
Calculate your net real monthly income as the bank will request this information if requiring a loan / Mortgage.
Understand how much mortgage you can afford and obtain. Contact banks / broker for specific mortgage advice.
Calculate your real budget and plan within your means, for more information on mortgages and banking, please go to this page:
https://www.vipalmeria.com/mortgage-faqs.html
If you are seeking appointments, it is important to be preapproved at least.
Step 4: Do your detailed research
Conduct detailed online property search via property Portals and local websites to get a feel of agents portfolios.
Speak to or email real estate agents, Ask if they are registered as a company? Vision Investment Property Almeria is VAT / CIF registered in Spain (Number B04833737) & inscribed in the "Registro Mercantile de Almeria" https://www.vipalmeria.com/who-we-are.html
Possibly attend property exhibitions in your home country. V.I.P Almeria continue to promote the idea of overseas home ownership to a British and Irish audiences and we attend yearly shows such as A Place in the Sun. https://www.vipalmeria.com/see-us-on-a-place-in-the-sun.html
Remember that the agent holds the letter of engagement with the seller so you should never pay for services and always have independent legal representation.
Step 5: Organise to view your properties – Declare your current position: Ready to buy / Just looking / Need to sell before you can buy
Select specific properties for viewing by email as some vendors insist that they want only people in a position to buy. Ask questions, a good agent will see the thread in style and type of options you are selecting. Please don't choose according to price as this can affect your shortlist. If you need to compromise to buy in one location over another, decide prior what is the most important.
Plan your visit accordingly. A good agent will offer you a meeting point such as their office and book in your shortlist of viewings in advance, so you know how much time you need. Remember to spend time in the zonal area. A property is key to the lifestyle you will live here.
Allow time in your visit to explore the areas so you can make a shortlist and view properties again if necessary. It is important to give positive or negative feedback to the agent for their vendors as they are all giving you time to aid an informed decision.
Step 6: Find the right property
Ask the real estate agent detailed questions, the paperwork should be on file as the listing agent, so you can make an informed decision.
It must be clear what the agent is selling so it can be presented to a buyers legal. In order to do the necessary due diligence, VIP Almeria request copies of the following:
Deed or Copia Simple
Nota Simple (We can request this upon receipt of the deed)
EPC - Energy Rating Certificate (A vendor may already have this as it is compulsory from 2015 but we can request this upon receipt of meeting the Degree218)
Last two years IBI Receipts (Not the Direct debit)
ID of vendors (NIE and Passports)
Copies of the Rubbish, Water and Electric Bills (Not the direct debit)
Regarding Bills, if a vendor pays by paperless systems such as Direct Debit, we will request from their legal, the contract number for your account with water / electricity ect.
Step 7: Making an Offer - Engage a lawyer to do your initial property checks and ensure you can obtain the mortgage or have the funds you require
An independent legal will run important property checks, This is known as the Decree 218 https://www.vipalmeria.com/decree-218.html
If required, your legal can accept POA (Written Power of attorney) to apply for your NIE certificates and open a bank account
Your independent lawyer will help to inform you about possible problems and issues, and protect you from future problems with your new home. Your lawyer will conduct relevant searches such as the Decree218, check licences and ensure the property has been built legally without any legal claims on the property from a third party.
The property is free of debts, encumbrances, charges, and is up to date in all its payments.
Title deeds are properly executed.
Local council documents are transferred.
Taxes and costs to be paid in the transaction are correct.
Other essential requirements. application for NIE number (identification number for foreigners), are taken care of.
Electricity, water, community of owners if applicable, rubbish collection and rates can set up by direct debit.
Remember the agent represents the sellers interest. A sales agent job is to compile the property paperwork and check the file prior to advertising online, for the purpose of generating a qualified buyer for the vendor who upon a successful sales completion at notary pays the agent their fee. At no stage from introduction to sale completion should a buyer be charged for any services from the agency.
The initial offer to reserve will be drafted by the agent outlining what is agreed in a purchase and signed by all parties. This information is used for the PPC. (you will be asked to pay an initial holding deposit at this stage to take it off the market, this varies between 3000 to 5000 Euros depending on if it is a resale of new build). VIP will ask that the deposit is directed to a legal representative client account so it is on hold subject to legal due diligence to protect the buyers interests whilst the property is off market.
Confirm final price & deposit amount, agree the terms and conditions (negotiable between buyer and seller) & set an estimated completion date in writing with a inventory if applicable.
Step 8: Private Purchase Contract (PPC)
Once the legal have ensured all property checks are in order and the property title can be transferred to you, free of debts, tenancy and encumbrances, this is the 10% stage. Your legal will draft this contract (PPC) and ensure that the any retentions are applied to cover CGT liability if non resident (3% retained and paid to the tax office), if a mortgage to be paid off prior to notary and confirm the deed can be sold free of any debts or encumbrances.
The information of the initial offer (Reservation) is used, and this is where exchange of contracts occurs. We advise clients to have an Annex showing a list of any furniture, fixtures or fittings that are to remain with the sale.
Step 9: Formalise mortgage finance (if needed and have this as a condition of purchase)
Ensure bank conducts property valuation and wait for the banks formal mortgage approval and ask for the binding offer letter (oferta vinculante). This is signed two weeks prior to notary signing.
Get it in writing IF YOU HAVE ANY DOUBT OVER GETTING THE MORTGAGE AMOUNT YOU REQUIRE, ENSURE YOU GET FORMAL MORTGAGE APPROVAL BEFORE PAYING A NON-REFUNDABLE DEPOSIT
Step 10: Pay the balance of the 10% deposit and sign the private contract under independent legal guidance. This must always go via your legal client account.
Typical deposit is 10% of the agreed sale price, payable in two stages:
Pay initial holding deposit (3,000€) and sign initial reservation contract Day 1 of the agreement.
10 to 30 days later, sign private contract (if necessary) and pay balance of deposit.
Stages 1 and 2 can combined if it is a quick completion agreed.
Deposits are normally considered non-refundable. In some cases, you can pay a deposit earlier subject to all the property checks being in order. VIP Almeria always insists that the deposits are made via your independent legal client account.
Step 11: Prepare for completion
Get complete breakdown of funds for completion from lawyer. This is important that you are clear and relaxed with the process. Please always include your legal representative to communication with the agent so everything is transparent.
Ensure mortgage funds from your lending bank are in place transfer own funds to Spain either to your own bank account or Solicitors client / escrow account
Ensure you have the correct documentation in place to fix a completion date at Spanish Public Notary or Via POA (Power of Attorney).
All documents will be sent for completion to the Notary at least three days before the completion date. This will form the new deed of title transfer.
Step 12: Completion
Organise banker's drafts for balance owed to seller in accordance with lawyers' breakdown of funds. If a transfer is agreed in GBP for example, the Notary will need proof of transfer to oversee the title transfer. It is important that all funds paid have a money trail.
Buyer and Seller (or POA) will need to be present for completion at notary or leave Power of Attorney with lawyer Sign Title Deeds (Escritura) and hand over cheques Keys handed to you -- congratulations!
After the Sale / Purchase: Get settled in
Your legal will arrange to connect the utilities (water, electricity, gas, telephone line, etc.) in your name, and register the rates/council tax (IBI) in your name which is why you need a Spanish bank account for direct debits. Please note that you need to get Home & Contents Insurance!
VIP Almeria is the only estate agent in Mojacar that is accredited with the exclusive "Safe Purchase Brand". Giving you much more than other estate agents when purchasing your home in Almeria: A Certified extra property protection guarantees for the next 20 years.
See Link: https://www.vipalmeria.com/title-deed-insurance---safe-purchase-guarantee.html
To understand the whole purchase process in more detail and to find out how to be an informed buyer, please contact us: info@vipalmeria.com