Current Weather in Mojacar
Currently: Clear sky

Humidity: 58%
Wind: 14.4km/h NW
0% Chance of Rain
Saturday 28/1
Few clouds

Sunday 29/1
Light rain

Monday 30/1
Light rain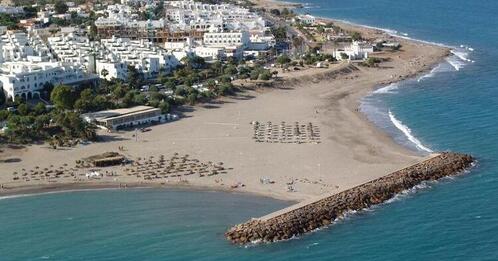 The weather is provided by OpenWeatherMaps and last updated at 9:07am on 27th of January
Welcome to Vision Investment Property Almeria - Licensed Property Service Providers & Auctioneers
Who We Are
V.I.P Almeria has been established in Mojacar Playa since 2005. We offer more than just selling property. The company was formed as a combined venture between Stephen Howlett (Sales and Administration) and Victoria Venturini (Sales and Marketing). We have three children together (Two born here) and have experienced many different aspects from local integration to schooling since our permanent move from Dublin, Ireland to Mojacar in 2003.
We found that our life experience was just as important as our professional. Community and lifestyle is important, so as parents, we ensure to be involved in the events and sponsor / promote many sports and youth events encouraging personal development.
Known as a very pro-active and progressive agency who works for the client's benefit, V.I.P Almeria can offer you all types of properties ranging from new build to resales and distress sale opportunities. We hold collaborations with developers and banks to offer key ready products at vastly reduced prices.
2022 is projected to be a good time to consider Spain as a second home destination. We are here to present sound, straight talking advice. International buyers make up 23.4% of the property market and the population of Mojácar as an example has grown by 2,000 (41%) since 2000.
We are AIPP regulated and inscribed in the "Registro Mercantile de Almeria". CIPS - Certified International Property Specialist, we are also a member of the National Association of REALTORS® with NRDS ID: 061237049. Licensed Property Service Providers & Auctioneers.
VIP Almeria have been awarded the title in the past 3 years as 'Leading Real Estate Adviser, Almeria, Spain', No matter how big, successful or renowned a business may be, it goes without saying that, away from its own pool of talent and expertise, there will always be a network of trusted advisers behind the scenes helping to inform, guide and shape the way in which it operates. This is in addition to the award, December 2016 when we were given the title, Real Estate Firm of the Year 2016, this award was set up to recognise the firms which are among the best and brightest when it comes to real estate, able to flourish in this dynamic sector.
Nominated and Winner of Best Broker, Costa Almeria , Steven Howlett was named as the Almeria Area expert in 2012 by A Place in the Sun. He has also been involved in over a dozen successful TV shows which continue to this day. VIP Almeria have our own profile Section on "A Place in The Sun" which showcases our property listings adding this to all major property portals including Rightmove Overseas to name a few options on where to see our listings.
Many different aspects of the industry are available from our beach office such as Sales, Valuations, Survey, Architect plans, title deed Insurance, Planning and Property Registry solutions including Land Taxes.
We are a key company to this area for introduction due to our multiple property and area exhibitions throughout Europe. Our client portfolio varies between Northern European, International and Spanish. We want people to enjoy this fantastic unspoiled natural area and have assisted so many integrating to the region which has a strong cultural identity.
At the VIP Almeria office communication is easy for us. We work with major national and international platforms to ensure marketing reach for our clients. Getting here is easy and we keep our website up to date with advice on how to get here from various airports.
We enjoy promoting our activity on social media such as our VIP Almeria Facebook page.
Our Buyers and Sellers are informed clients. Choosing a legal is equally as important therefore we ask that when researching property options that you apply the same attention to an independent legal abogado.
Our Buyers, have their lifestyle and criteria matched. Remember it is not just the house but the location. We protect their freehold purchase with a 20-year title deed insurance as a gift. We offer real support and aftercare for our valued clients. See our testimonials.
Our Sellers receive a breakdown of visits, feedback and fees payable should they consider an offer to reserve so they understand the net amounts plus comparisons of sale agreed in their neighbourhood. We also aid with all certification to be degree218 compliant.
As everyone is different in their needs and criteria; If the property you want is not already on our books, VIP Almeria are specialists in sourcing property investments to suit every need via our excellent and diligent collaborators. We use only like-minded agents with the same work ethic and who are regulated. We have supporting experts so we can offer you what you want, not just what we have. This service costs you nothing extra. If you wish to consider us as a lead agent (Buyer's agent) we will be delighted to present all the options the area has, including area tours as location is so important.
Of all the services, we provide to home-buyers, one of the most essential is helping them seek out the best options available to them. Many people feel comfortable knowing that we put ourselves in their shoes and will offer insight of advantages or disadvantages in a particular area. It is important to have an entry and exit plan unless it is your forever home. We have developed some solid contacts in this area over the years, so before you commit yourself, please feel free to contact us and experience it for yourselves.
When you decide it's the right time for you to make a move or step forward, we would love to hear from you. Thank you for taking the time to look up our details.
Client Testimonials
If you are looking to buy on the Costa Almeria, Steven is your man. He listens to what you want and makes sure that you have a good idea of the area, before you make your final decision. No pressure, just sound advice and a good professional team around him supporting and helping you every step of the way. I went down to Mojacar in November 2011 after already having had a helpful email correspondence with Steven during after which I was able to focus more clearly on the area best suited to me. Steven did everything he promised and more. He took care of me for the whole time I was in Spain, as well as coming up with a great property on the beach at a competitive price. As someone who has used estate agents in the UK, Steven is a breath of fresh air and a pleasure to do business with - and I look forward to a great ongoing rental service. Thank you so much Steven!
Sholu Pande-Laws
We are now in our cosy cottage in Deal and all the boxes are unpacked.Thanks for all your support through our lengthy selling process.All success and happiness for you in 2016! Roger and Mike
Roger Price
We did not get our property yet and with your help Steven; we know we will get the right one, but your the most fun agent in Spain! Most people are not worth working with. We appreciate your help and hard WORK. We will get there soon together.
Mike Snow
Thanks so much to Steve and Vicky from VIP Almeria for making what had the essence to be a very stressful experience into being very enjoyable and stress free. Steve was nothing but helpful and genuine in helping us with our choice - and we weren't an easy sell haha! From start to finish nothing was too much and we were made to feel like his only customers, I would definitely recommend VIP Almeria for anyone's property needs in Mojocar. A special thanks too to Vicky, as without her gentle touch and quick but level headed assistance thing definitely wouldn't have went so smoothly. A definite 5 stars from us, thanks again guys :)
Emma Farrell
What can I say? There really aren't enough positive superlatives to describe the superb, fantastic service you and your team gave me in the selling of my property in Mojacar, recently. Throughout some hard years, Steven was always there to support me in a professional, but also a friendly and caring way. Extraordinary experience. I've bought and sold quite a few houses over my now many decades and I've never had anything approaching this degree of dedication and personal engagement - it was of a different order altogether. Fantastic, Steven and co.! I'm hugely indebted to you and just hope I get to see you all again before too long. Gracias, Jill.
Jill McKenna
I have found the staff and Steve to be more than helpful when we looking for property in Mojacar.He found the ideal place for us.
Pat & Al Shipman