Albox, Almería
Your Neighbourhood is a series of local area guides from VIP Almeria. We're bringing you the best of local villages combined with the latest property data. Albox postcode: 04800.
Albox is a Spanish municipality in the province of Almeria in the autonomous community of Andalucía. It is situated in the north eastern part of Valle del Almanzora and 120 km from the provincial capital, Almería.
Why Albox?
Albox is a typical Spanish market town, situated approximately 130km from the provincial capital of Almeria. All services and facilities can be found in Albox including shops, banks, post office, restaurants, bars and several builders' merchants. There are schools for children of all ages and a 24 hour medical centre. The nearest major hospital is in Huercal Overa, approximately 21km away. Albox has a municipal swimming pool which opens in July and August, a sports centre, and a tennis club which also has its own swimming pool. A large market is held every Tuesday morning and a smaller market on Saturday mornings.
GASTRONOMY: The local dishes are migas (fried breadcrumbs with a mix of vegetables and meat), choto a lo pastoral (goat stew), puchero (stew), trigo guisado (wheat stew), fritada de sangre (black pudding), gurullos (rabbit or partridge dumplings), remojón (cod and orange salad with olives and egg) and albondigas (meatballs). Among the desserts and sweets on offer, roscos de aguardiente (liquor biscuits), roscos de naranja (orange biscuits), cuajao de almendras (almond cake) and suspiros (dumplings) are the most typical.
Where to Move:
Albox town, los Simones, San Roque, Llano de Espino, Bentarique, Llano de las Ánimas, Llano de los Ollores, Locaiba, Saliente Bajo, las Pocicas, Pocicas, Caserío el Lugarico and los Aceiteros.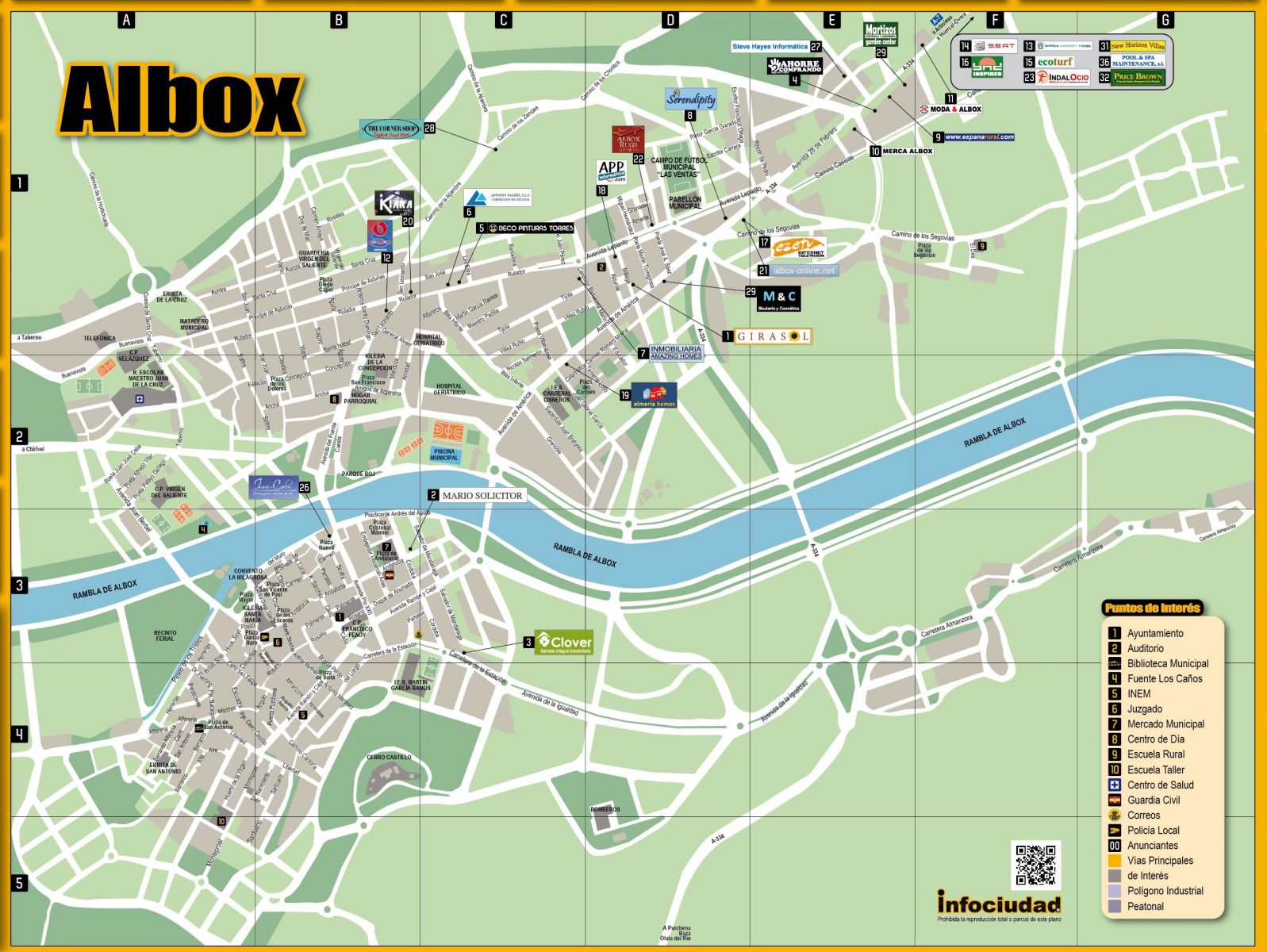 The Cost: "Really anywhere in Spain so it is a lifestyle choice, a single could live comfortably on €1,200 — or less. A couple can live for around €2,000 a month. Eating out at Restaurants is inexpensive as are childcare, groceries transportation and sport and leisure club membership/activities.
Albox is a municipality of Almería province. It has a population of 11.696 people.
Take me there!
The Hermitage and viewpoint of Santa Cruz
What's the story with house prices?
-Apartments: 3 bedroom from 20.000 - 150.000 Euros.
-Duplex: 3 bedroom from 100.000 - 135.000 Euros.
-Country House: 3 bedroom from 62.000 - 870.000 Euros.
-Detached house: 3 bedroom from 125.000 - 369.000 Euros.
Local amenities?
Three medical centers (Centro Salud Mental de Albox, Centro Médico y Psicotécnico Virgen del Saliente and Centro De Salud / Consultorio Medico, SAS), seven banks (unicaja, caja granada, cajamar, bankia, santander, la cam, ATM), toy store (Toy Planet Albox), Guardia Civil quarter, Blanes (sport shop), various clothing shops, appliance shops, furniture stores, home good stores, Club Tenis Albox, two pharmacies (Farmacia Félix L. Mirón and Farmacia Paredes), two tobacconists ( Estanco Pedro Marmol and Estanco, Papelería San Francisco), three bakeries (Panadería Fernández, Cornish Pride Bakery and Panadería Bollería PCI) and three butchers (Carniceria Parrita, Pablo Bonillo López and Cárnicas Bonillo).
Where should I get lunch?
Where should I get a light bite to eat?
Terraza Lamarlo, Heaven, Bar Triana, Almizaraques Gourmet, Bar Lepanto, Café Bar Campus, TC's, Bar El Coyote, Fonda Rosao, Bar Diente De Oro, Bar Ana, Café Bar Mateo, El Cortijo, Wassy, Wuassi, Bar Cervantes, María Asunción Fernández Alonso, Bar Teora, El Molina, Bar Gloria, café bar Campus, Pastelería Angel, Pastelería y Obrador Juan Manuel, Pastelería Manolo, Patisserie La Pequeñica, Espacio Dulce and Rambla Cafe.
Where should I try for lunch or dinner?
La Cena, Café Bar Wassy, la Parrilla Hotel, Frituur El Muro, La Palmera, Restaurante Mirador, Café Bar El Laberinto, El Círculo, Cosa Nuestra, La Cartagenera, La Zaranda, Mucho Gusto, Bar Mateo, Hogar De Los Jubilados, Sotto Voce, King Kebab Albox, Estambul Kebab, Bar Triana, Super pizzeria and kebab, El Sótano, Taj Indian and New Delhi and Nuevo Mundo.
So what's the big draw?
"Fiestas", Religious Monuments, climate, history.
What do people love about it?
It's a active town with everything you need in it for full time living.
And... what do people NOT love about it?
Limited public transport so a car is recommended.
Schools and supermarkets?
-Schools: one infant school (Escuela Infantil Albox), four public primary schools(C.E.I.P. Virgen del Saliente, C.E.I.P. Velázquez, C.E.I.P. Medio Almanzora II and C.E.I.P. Francisco Fenoy), one private primary school (Centro Privado de Educación Infantil Virgen del Saliente), two secondary schools (I.E.S. Martín García Ramos and I.E.S. Cardenal Cisneros).
-Supermarkets: various grocery stores (Frutería y carnicería Los Rizos, The Corner Shop, Carnicería halal aya, Comestibles M. Angeles, Ramos Rubio Luis, tienda rusa, etc), various supermarkets (Lidl, Mercadona, Día, Hermanas Sobrina S.C.A., Harrison's convenience store, Sol Supermercado, Supermercado Pedro Granero,etc).
OK, I'm sold. Give me one piece of local trivia to impress a local
Albox still has a remnant of a great tradition of pottery introduced in this region in the tenth century. It has one of the oldest active workshops in the province of Almeria, the "Los Pottas Pottery", whose kilns have 300 years of history . It was named "Andalusian Artisanal Interest Point" by the Ministry of Tourism.
Back to all areas