Garrucha, Almería
Your Neighbourhood is a series of local area guides from VIP Almeria. We're bringing you the best of local villages combined with the latest property data. Garrucha postcode: 04630
Garrucha is an old and well established town with origins back to the 16th century when it was founded by a group of fishermen who protected themselves from pirate attacks by constructing a tower. There is a beautiful promenade that runs the length of the town with wide sandy beaches stretching to crystal clear waters on one side, and palm trees, restaurants, cafes, shops and the town extending out on the other. Like all Spanish towns, there are many fiestas with colourful parades that wind through the town at various times of the year.
Besides cargo ships, the port is home to a small fishing fleet and has approximately 300 moorings for leisure boats.
Situated along 8 kilometers of wide sandy beaches the fishing town and seaport of Garrucha boasts a 2km long promenade.
A lively, thriving town with a rich history of considerable trade in lead, silver, copper, iron, esparto grass and fruit, the only export from its harbour now is gypsum mined in Sorbas, with a million metric tonnes being exported annually.
Besides cargo ships, the port is home to a small fishing fleet and has approximately 300 moorings for leisure boats.
The beach consists of three areas Playa de Garrucha which stretches from Mojacars Marina de la Torre beach to the cove of Playa de Posito which then leads on the the port.
Every Friday Garrucha holds a local market in which fresh fruit, vegetables , clothing and a variety of household goods can be purchased.
With over 320 days of sunshine a year and an average yearly temperature of 20 degrees, it opens the door for a great quality of life with sport year-round, including hiking, mountain biking, cycling, horse riding, cycling, golf, tennis and paddle tennis, soccer, and just 15 minutes drive to the beach for surfing, sailing, swimming, etc.
Why Garrucha?
The tourists that visit Garrucha will be able to find several places and monuments to see, amongst them we highlight the following:
Garrucha town hall
This building was built upon an old salt warehouse in the year 1875.
The Malecon promenade
This beautiful seafront promenade is ideal for a kilometre walk from one point to the other. It's situated near the fishing port and offers lovely views of the coast to enjoy either alone or in good company.
Ancient Chimney
This chimney is a remain of an industrial past that extends along the Mediterranean coast reaching in fact up to Malaga. This chimney expelled the old smelting fumes and is a symbol of the city that has has been reformed and offers fantastic views.
The fishing port and fish market
The current market of 1995 replaces the previous building which was built in 1950. It's the place where everyday they auction fresh fish and seafood brought in from Garrucha's fishing port. The port is also one of the most important tourist points of Garrucha and Almeria.
The fisherman's monument
While we stroll along the seafront heading towards the port we'll come across this monument built in honour of the fishermen of Garrucha, one of the main ways of life in this municipality.
Garrucha beach
One of the main tourist attractions of the municipality is its beach, situated between two breakwaters, it's about 1400 metres long and is a peaceful place where to cool off all year round.
The Castle of Jesus of Nazarene
A fortress built in 1769 to defend the coasts from the constant pirate attacks and that was later on the headquarters of the 'carabineros' and of the 'guardia civil'. Today it's used as an exhibition hall and for different celebrations like weddings and concerts.
Where to Move:
Garrucha is just under 8km long and all residental properties are within easy walking distance to the village main street or beachfront as it has in most parts no kore than 6 streets deep from the frontline.
There are alternative areas zoned as Las Marinas / Los Bungunvillas which offer townhouses with access to community pools.
Closer to the port, apartments and flats, are the majority available in the village center with shared facilities such as elevators but many lack access to a community pool.
The Cost: "Really anywhere in Spain so it is a lifestyle choice, a single could live comfortably on €1,200 — or less. A couple can live for around €2,000 a month. Eating out at restaurants is very inexpensive as are childcare, groceries transportation and sport and leisure club membership/activities.
Garrucha is a municipality of Almería province. It has a population of approx 8,800 people in a 7.68 km² area.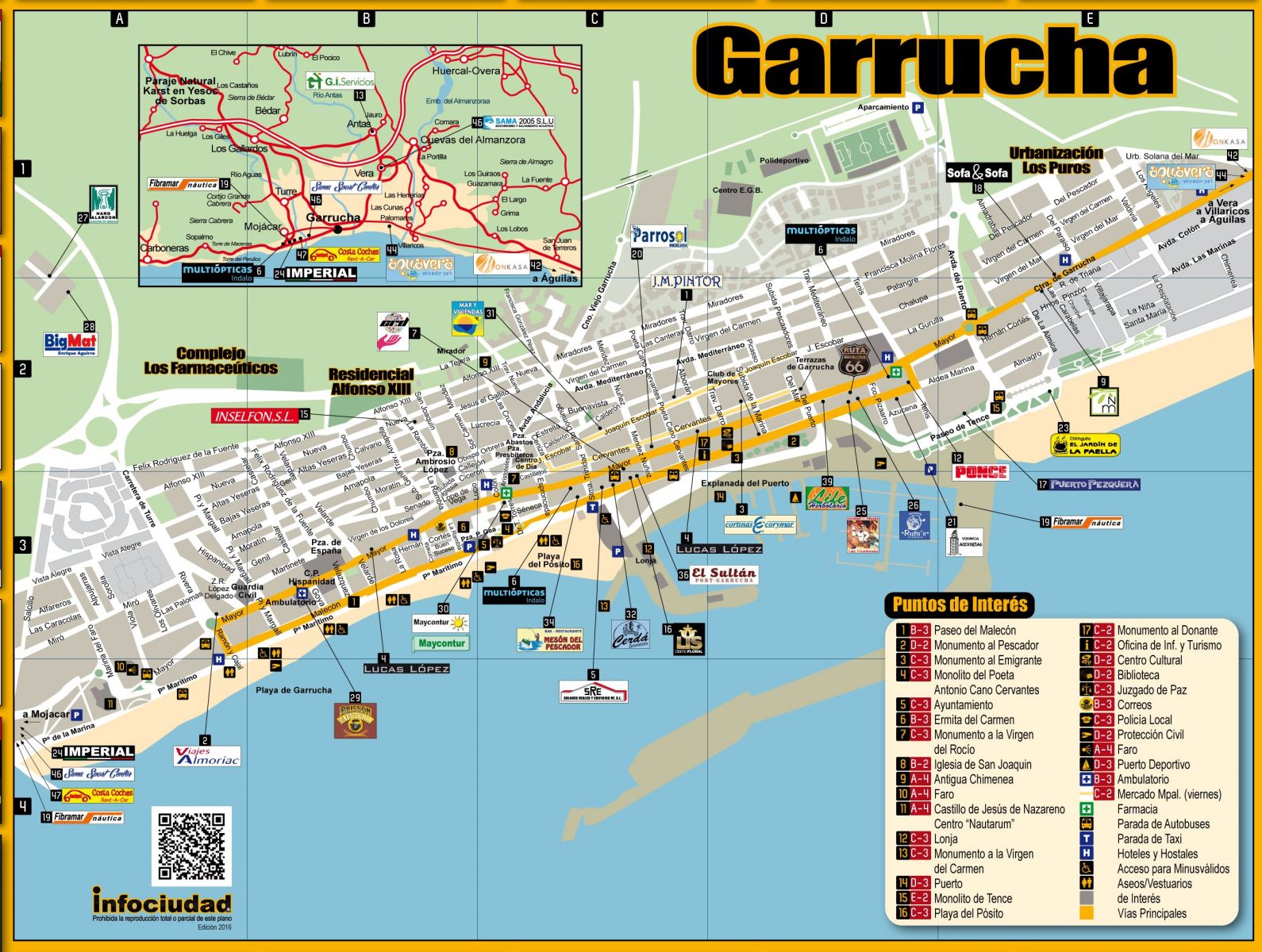 What's the story with house prices?
2020
The average asking prices are:
2 Bedroom Apartment - 110,000€
2 Bedroom Townhouse - 125,000€
2 Bedroom Villa - 300,000€
3 Bedroom Apartment - 110,000€
3 Bedroom Townhouse - 185,000€
3 Bedroom Villa - 450,000€
Local amenities?
Hostal Manolo - Calle Virgen del Mar, 45
Hotel Tikar - Carretera Garrucha a Vera, 17
Servicio Técnico Ponce SL - Calle Tenis, 1
Super Cash Shop - Paseo del Malecon S/N
Where should I get lunch?
If you are looking for places to try the gastronomy with the famous tapas, there's nothing better than going for a stroll around Garrucha's old quarter. Amongst the places to eat that we recommend are the following:
Restaurant Mesón del Pescador - Paseo del Malecón, 104 - Paseo Marítimo
Restaurant el Rincón del Puerto - Explanada Puerto Deportivo, s/n
Restaurant el Almejero - Calle Esplanada del Puerto, 0, s/n
Restaurant Andalucia - Avenida Malecón, 136
La Barca - P.º Marítimo, 46
Rincon del Puerto - Expl. Puerto, S/N
Casa Santiago - P.º Marítimo, 200
Laguna Bar - Juan Sebastián Elcano, S/N
Califa - Paseo del Malecon, 106
Restaurante El Almejero - Explanada Puerto
Nautico Lounge Bar & Restaurant - Paseo del Malecon, 17

Restaurante El Birra - Paseo del Malecon S/N
So what's the big draw?
The gastronomy in Garrucha gives special importance to the fresh fish of its coasts and to the red prawn, a delicacy of the Mediterranean that is only present in this area of Almeria.

Garrucha's cuisine is simple, mainly based on products from the sea and the lands of the municipality. Amongst the fish that one can try out are the following: porgy, sea bream, sole, grouper...They can be prepared on the grill with olive oil and parsley or fried. Amongst other dishes that you could like for example is the fish and seafood casserole or the famous seafood stew, very typical in Almeria, made with mackerel or monkfish with almonds, garlic and bread.
Other typical dishes that we can find in Garrucha and that is shared with Almeria are the 'Migas' (made with flour and bread and that can be accompanied with peppers and sardines, fresh anchovies or meat fat), rice with rabbit, the casserole of peppers and ribs or the snails amongst other dishes
What do people love about it?
This village is reknowned for its fairs, festivals, port, sea and beach activaties along with its family friendly vibe.
And... what do people NOT love about it?
Garrucha does not have the same building height restrictions as its neighbouring Villages Mojacar and Vera dispite being a considerably smaller resort.
Although restrictions are not the same, most properties are less than two minutes from the beach.
And what's my new local?
Bitácora - Paseo del Malecon, 122
Cafetería Manhattan - Paseo del Malecon, 188
Cafetería Bounty - Calle Mayor, 80
El cafetín del puerto - Puerto deportivo
Pub Restaurante Boracay - Paseo del Malecon, 19
Maui Port - Puerto de Garrucha
Cafetería La Cantina de Floor - Paseo del Malecon, 80
Pub Aktual - Paseo del Malecon
Bar Tina - Carretera de Garrucha S/N
Victor's (Personal favourite for snacks and coffee) - Ronda de las Buganvillas, 3, 12
La fornería Belga - Ronda de las Buganvillas, 28
Cafetería Paneas - Calle Mayor, 1
Hotel Tikar - Carretera Garrucha a Vera, 17
Magani Sports bar - Ronda de las buganvillas S/N
Alternatives:
Personal favourites:
Tierra Y Mar - Tapas Bar & Restaurant
Restaurant | Tapas Bar | Canadian Fusion foods | Tasting Menus | Take Away | Paella | Menu of the Day/Menu Del Dia
Little Italy 2 - Pizza Place · Neapolitan Restaurant · Fast Food Restaurant
Both located at the end of Paseo del Malecon in Garrucha, next to Super Cash.
Schools and supermarkets?
The town is serviced by four supermarkets located conveniently at both ends including a Mercadona and Lidl, a medical center and four schools, Ex Mari Orta (Infants and Primary) with a Bilingual program, Hispanidad (infant and primary), La Sirentita (infant) and Instituto de Educación Secundaria Mediterráneo (second level).
Dotted along the area there is also a wide selection of various shops, restaurants and cafes which cater to most tastes and needs.
OK, I'm sold. Give me one piece of local trivia to impress a local
The first evidence there is of Garrucha dates back to 1327, after a Christian incursion that relates a small village on the coast called Almoraic and that was located a mile away from Mojacar on the way to Vera.

From the Arab dominion there is evidence of a tower near the sea to defend themselves from the Christian pirates, that were quite frequent due to its proximity to Murcia. This tower ended up being destroyed after a powerful earthquake in 1518. Garrucha has had a fishing past since its origins and its port has gained special importance, specially due to the presence of a warehouse known as "House of the Salt", where they would store the salt from Cabo de Gata to be subsequently distributed around the interior. The port was, as from the 16th century, an important commercial point of wines, wicker and marble.
After the conquest by the Christians, there wasn't a great growth, partially due to the constant pirate incursions that threatened the inhabitants with being captured as slaves or assassinated. The arrival of the mining industry in the 19th century boosted the growth of Garrucha.
The mining fever in Almeria commenced after the discovery of silver in 1838 in the Almanzora Caves, being the port of Garrucha the departure point of great part of the minerals extracted from the mines. This fever increased with the creation of a smelting for the lead in 1841, that would later on become in a top over to melt the iron from Bedar and Sierra Cabrera. The mining industry gained more and more importance until the point in which they created a mining railway in 1890 to increase the commerce even more.

In the early 20th century the whole mining activity shut down, and the fishing and tourism became Garrucha's main economic engine. The port's speciality is the capture of the red prawn, a delicacy typical of the Mediterranean and Almeria. Today Garrucha still preserves its commercial port and a high rhythm of gypsum exportation.
Back to all areas