Garrucha
Garrucha is an old and well established town with origins back to the 16th century when it was founded by a group of fishermen who protected themselves from pirate attacks by constructing a tower. There is a beautiful promenade that runs the length of the town with wide sandy beaches stretching to crystal clear waters on one side, and palm trees, restaurants, cafes, shops and the town extending out on the other. Like all Spanish towns, there are many fiestas with colourful parades that wind through the town at various times of the year.
Besides cargo ships, the port is home to a small fishing fleet and has approximately 300 moorings for leisure boats.
Situated along 8 kilometers of wide sandy beaches the fishing town and seaport of Garrucha boasts a 2km long promenade.
A lively, thriving town with a rich history of considerable trade in lead, silver, copper, iron, esparto grass and fruit, the only export from its harbour now is gypsum mined in Sorbas, with a million metric tonnes being exported annually.
Besides cargo ships, the port is home to a small fishing fleet and has approximately 300 moorings for leisure boats.
The beach consists of three areas Playa de Garrucha which stretches from Mojacars Marina de la Torre beach to the cove of Playa de Posito which then leads on the the port.
The town is serviced by four supermarkets located conveniently at both ends, a medical center and four schools, Ex Mari Orta (Infants and Primary) with a Bilingual program, Hispanidad (infant and primary), La Sirentita (infant) and Instituto de Educación Secundaria Mediterráneo (second level).
Dotted along the area there is also a wide selection of various shops, restaurants and cafes which cater to most tastes and needs.
Every Friday Garrucha holds a local market in which fresh fruit, vegetables , clothing and a variety of household goods can be purchased.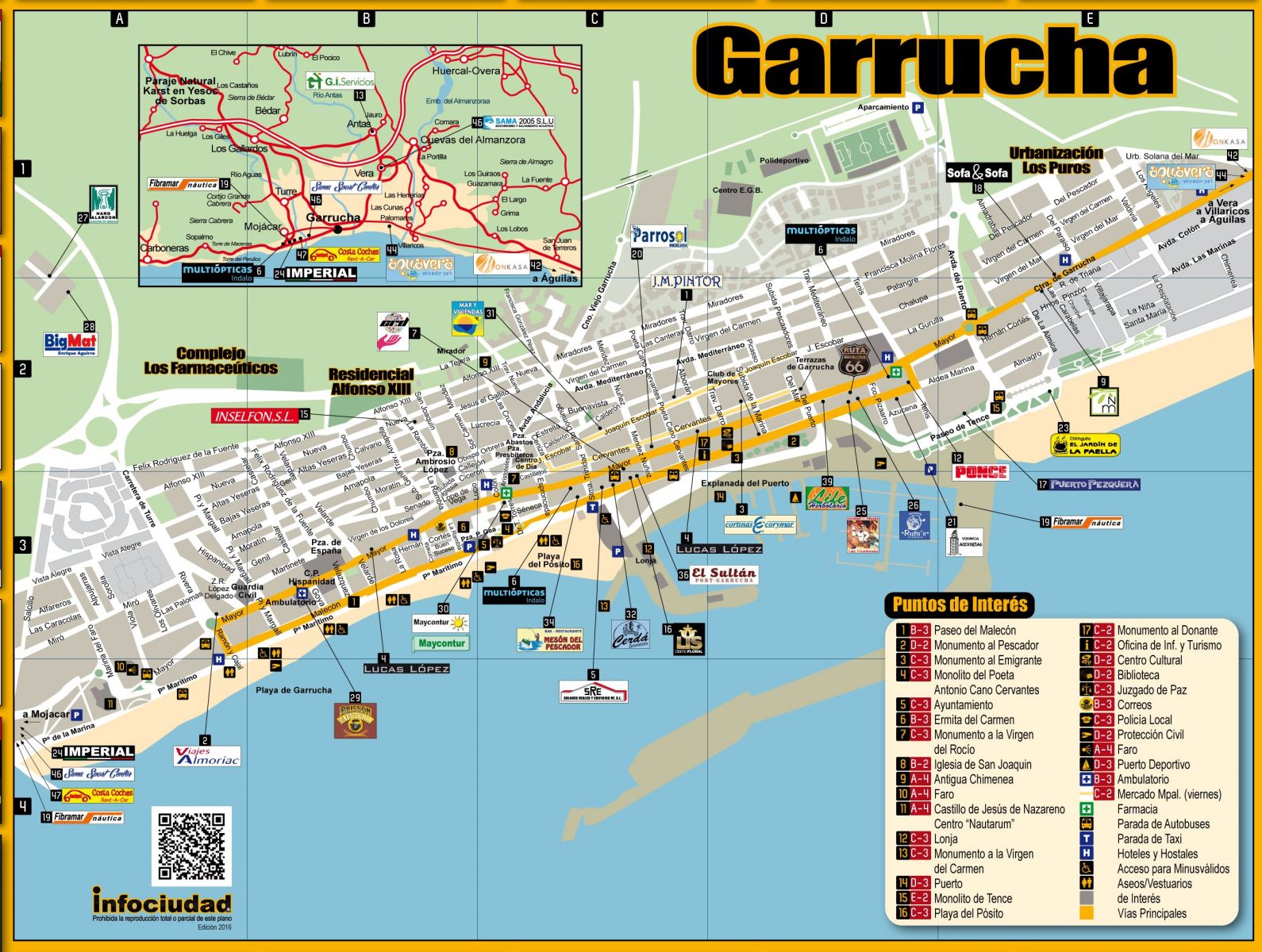 Important information
Town Hall
Tel.:34 950 46 00 58
Local Police
Tel.:34 950 46 00 02 or +34 607183311
Civil Guard
Tel.:34 950 61 70 79
Medical Centre
Tel.:34 950 61 70 70
Taxis
Tel.:34 950 46 04 27
34 950 13 22 16
Telefonos of interest.
Ayuntamiento/ Town hall : 950460058
Cofradia de Pescadores / Fishermen's Association :950460301
Cebtro de dia : 950133660
Club de mayores: 950132369
Oficina Puerto de Garrucha / Garrucha harbor office: 950808090
Correos / Post office : 950460202
Juzgado de Paz : 950460648
Centro cultural.
Oficina de informacion y turismo / information and tourism office : 950132783
Informacion al consumidor :950132783
Biblioteca / Library : 950460244
Sala de exposiciones / Showroom : 950460058
Salud/ Health .
Centro de salud / Clinic : 950451571
Urgencias Garrucha : 902505061
Farmacias / Pharmacies :950460085 / 950132279
Hospital La inmaculada Huercal overa : 950029000
Emergencias
Emergencias Andalucia : 112
Guardia Civil Garrucha : 950617079
Policia Local Garrucha : 607183311 / 950460002
Bomberos / firefighters : 950479000
Agencias de viaje.
Agencias de viaje Almoriac : 950617025
Agencia de viajes Indaltour : 950132337
Agencia zafiro tours : 950132945
Agencia Levabte Travel : 950132258
Transporte
Radio taxi levanter : 950888111
Autobus Local .Baraza : 950390311
Autobus nacional( Almeria, Murcia, Madrid, Barcelona ) :902422242
Estacion de autobuses vera / Bus station Vera: 902995267
Estacion de autobuses Almeria / Bus station Almeria : 902432343
Informacion Aeropuerto Almeria : 950213700
Renfe Almeria : 902320320
Transmediterranea(Ferry a Melilla y Nador desde Almeria: 902454645
Centros de enseñanza
Escuela infantile la Sirenita : 950451992
Escuela infantile Kinder Garrucha : 950460472
CEIP Hispanidad: 950451548
CEIP Ex Mari Orta : 950451901
Centro de adultos Atalaya : 950451695
Ies Mediterraneo : 950451681
Centros de interpretación.
Centro de iterpretacion de la pesca y medio marino Nautarum : 950139554
Alojamiento ; Accomodation
Hotel Tikkar ** 950617131
Hostal Cortes ** 950132813
Hostal Manolo ** 950132002
Hostal Cervantes ** 950460252
Hostal viva de Garrucha ** 950460229
Zones in this Area
Back to all areas
69,000€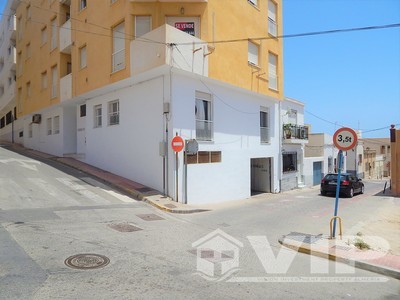 2 Bedrooms
1 Bathroom
No Pool
76.49m² Build Size
80.97m² Plot Size
More Info >
110,000€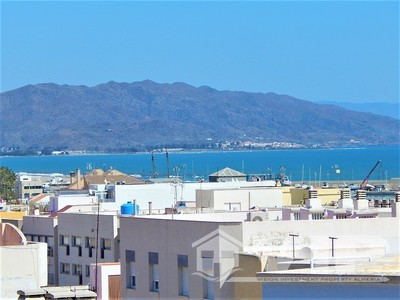 3 Bedrooms
2 Bathrooms
No Pool
86.36m² Build Size
113.28m² Plot Size
More Info >
102,000€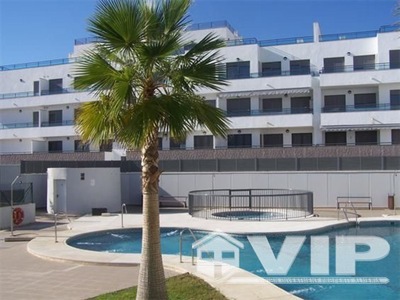 2 Bedrooms
2 Bathrooms
Communal Pool
68.00m² Build Size
15.00m² Plot Size
More Info >
Back to all areas