Cuevas del Almanzora, Almería
Your Neighbourhood is a series of local area guides from VIP Almeria. We're bringing you the best of local villages combined with the latest property data. Cuevas del Almanzora postcode: 04610.
Why Cuevas del Almanzora?
Cuevas is one of the oldest towns in the province, lying in the fertile valley of the Almanzora River. In the early 19th century silver was discovered in the Sierra Almagrera Mountains. The news spread like wild fire and Cuevas became home to many a fortune hunter. The town got its name from the artificial caves in the nearby hills once inhabited by miners. The impressive legacy of this silver rush can be seen all around from the elegant family houses of the mining barons to the grand avenues, churches and statues. Many of the grand houses remain and its well worth walking around the old town of Cuevas to gaze at the bourgeois architecture. Modern day Cuevas offers all amenities from Banks, supermarkets, doctors, shops, bars and restaurants.
Las Cuevas de Calguerín, with more than 260 caves, was a place of dwellings and refuges during medieval times. Today some of them are still inhabited. It is located a few kilometers from the urban area of Cuevas del Almanzora.
Where to move?
Unlike other guides we have done, Cuevas consists of many different towns and zones so we will place focus on where we list property or have up to date information: Cuevas del Almanzora, Desert Springs Golf Resort, Las Canalejas, Guazamara, Los Guiraos, Los Lobos, El Largo, Caserío El Tarahal, El Rulador, Las Cunas, Burjulu, Villaricos, Las Cuatro Higueras, Herrerías, El Arteal, La Muleria, Pozo del Esparto, Cala Panizo.
GASTRONOMY: Those interested in sourcing the gastronomy of the town should not leave without trying the ajo colorado (garlic soup). Other dishes worth trying include olla de trigo (black pudding and wheat stew), gurullos con conejo (chickpeas with rabbit) and pelota (meatball stew). Sweets include rosquillos de anís (aniseed biscuits), palitos de crema (custard flutes), cuernos de crema (custard filled pastries) and alfajores de almendra (almond pastries).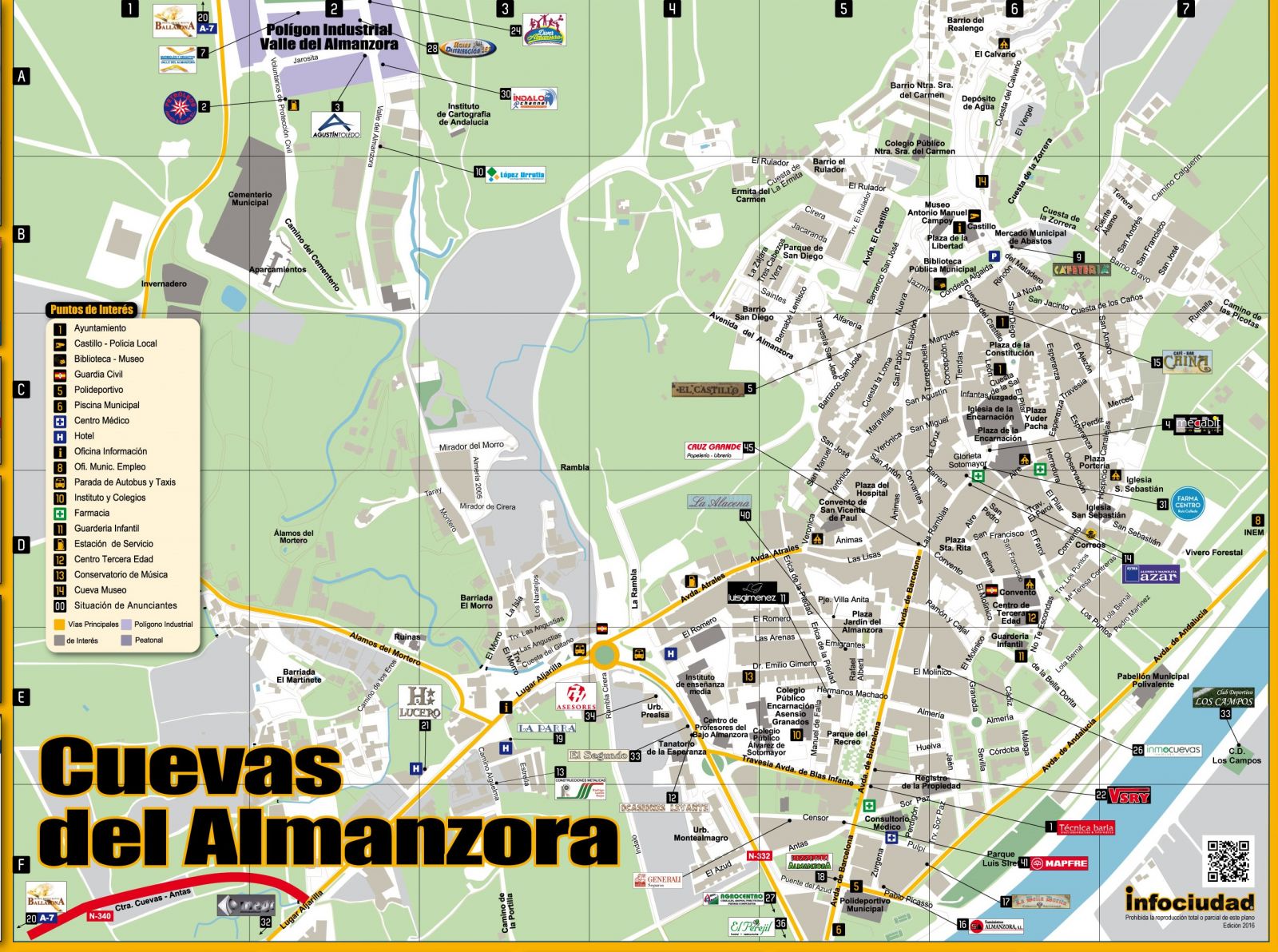 The Cost: "Really anywhere in Spain so it is a lifestyle choice, a single could live comfortably on €1,200 — or less. A couple can live for around €2,000 a month. Eating out at restaurants is very inexpensive as are childcare, groceries transportation and sport and leisure club membership/activities.
Cuevas de Almanzora is a municipality of Almería province and has a population of approx. 13,700 inhabitants in all towns and hamlets.
Take me there!
Plaza la Libertad
What's the story with house prices?
-Town Apartments: 3 bedroom from 36.400 - 75.000 Euros.
-Duplex: 3 bedroom from 59.500 - 135.000 Euros.
-Country House: 3 bedroom from 56.400 - 199.000 Euros.
-Detached modern house: 3 bedroom from 235.000 - 525.000 Euros.
So what's the big draw?
There is so many things to do - In the main town with all services, amenties, Historical points of interest, water sports and so much more.
Whilst the main town is inland, The municipality of Cuevas del Almanzora has 17 kilometers of coastline. Those who devote themselves to sun and beach tourism will find open beaches such as Palomares, Villaricos, Calón or Pozo del Esparto and quieter coves between cliffs like Panizo, los Invencibles or los Dolores.
What do people love about it?
Things to see in the town of Cuevas del Almanzora, Almería:

The castle of the Marqués de los Vélez, the church of Nuestra Señora de la Encarnación, the hermitage of Calvario, the church of San Sebastián, the caves of Calguerín, the convent of San Francisco, the statue of José María and Bajo de Mengíbar, the Don Torcuato Soler Bolea Mansion, the Cuevas del Almanzora public laundry, the ethnographic museum cave, the Luis Siret Park, the Antonio Manuel Campoy museum, the Villaricos castle or Cristal tower, the Blanquizares viewpoint, the San Antonio convent Abad, the mining town of Arteal, the Almanzora caves reservoir, Desert Springs Resort and Golf Club, beaches and coves.
Schools and supermarkets?
-Schools: two infant schools (Escuela Educación Infantil and Equipo De Orientación Educativa Cuevas Del Almanzora), three primary schools (C.E.I.P. Ntra. Sra. del Carmen and C.E.I.P. Alvarez de Sotomayor) and one secondary school (I.E.S. Jaroso).
-Supermarkets: Día, Mercadona, Rojas Distribución, Carnicería Haro, Autoservicio Segura, Golden Fruit and Distribuciones De Haro Carreño.
OK, I'm sold. Give me one piece of local trivia to impress a local
The chance to go scuba diving in the caves is a big attraction for sports enthusiasts, especially at beaches including Cala Cristal or the Embarcadero Viejo. The area also has Europe's first ever desert golf course at Desert Springs Golf Club and hosts the European Supercross Championships, for motorcycle enthusiasts, during the first few days of August. The 2005 Mediterranean Games of rowing and canoeing took place on the artificial lake here and there are many hiking routes along the coast and inland.
Back to all areas
Back to all areas