Vera, Almería
Your Neighbourhood is a series of local area guides from VIP Almeria. We're bringing you the best of local villages combined with the latest property data. Vera Pueblo postcode: 04620.
Vera as an area split into two sections and postcodes, the Village (Pueblo) and the Beach (Playa).
Vera Pueblo is a prosperous town six kilometers of the coast and has so much to offer, with many shops, restaurants rich in traditional crafts and tantalizing cuisine, including Spanish tapas - small plates of traditional food and delicacies.
Playas de Vera, as the name suggests, is along the coast and offers a wide range of activities with lush golf courses and exquisite club houses, a water park with water slides and slides spinning, shops and, of course, white sandy beaches complete with umbrella sea grass, palm trees and sparkling sea.
Why Vera Pueblo?
Vera as a village is a renaissance town in the levante area. It is centrally located for easy access to the main E15 Autovi­a. Within minutes you can be on one of the many beautiful beaches whilst enjoying shopping, cafes and restaurants on your doorstep.
Originally called Baria and located at Villaricos (Rich Village, due to silver mining industry) Vera relocated in the 13th century to the ground it stands on today. The Christian conquest in 1488, a massive earthquake in 1518 and the Moorish rebellion in 1568 have all contributed to the character of the town and its inhabitants.
There are many wonderful pieces of architecture and folklore to be explored. Much of which is lovingly explained in the Ethnographic and Archaeological Museum. Spain is well known for its fiestas and street parties and Vera is no exception. With such a rich history and a sense of value the Spanish take every opportunity to remind visitors and young ones alike of their culture. The Plaza de Toros (Bullring), built in 1879 is the setting for many fiestas, bull fighting and other cultural displays.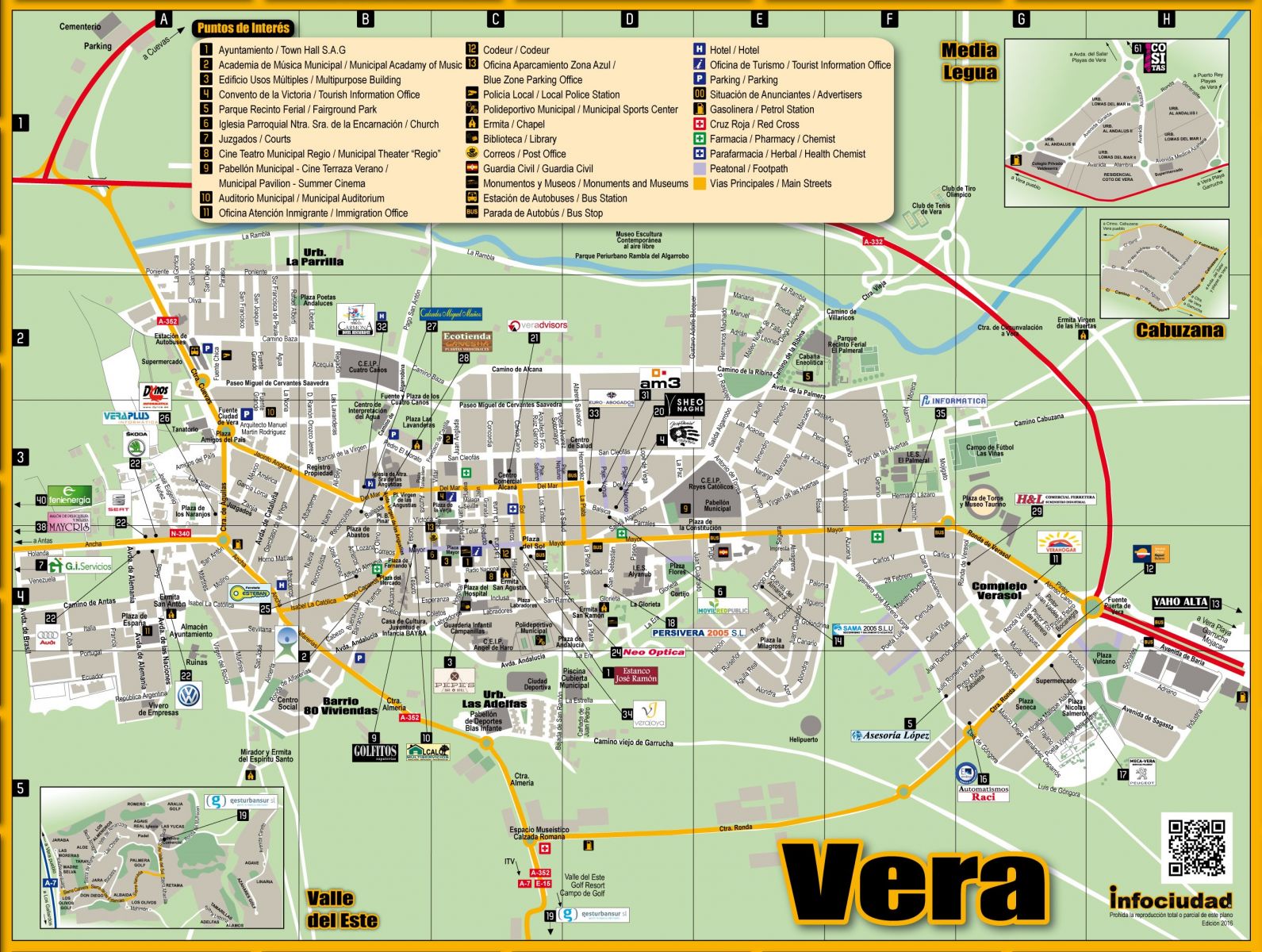 Where to Move:
There are surrounding areas for independent or campo villas and also purpose built residential comminites such as :
Urb. La Parrilla. Calle poniente
Barrio 80 Vieviendas. Av, Andalucia
Valle del Este (Golf resort)
Urbanizacion las Adelfas. Calle bajada de San Ramon
Complejo Verasol. Calle Ronda de Verasol.
Media Legua
Cabuzana - Stand alone Villas
The Cost: "Really anywhere in Spain so it is a lifestyle choice, a single could live comfortably on €1,200 — or less. A couple can live for around €2,000 a month. Eating out at Restaurants is inexpensive as are childcare, groceries transportation and sport and leisure club membership/activities.
Verais a municipality of Almería province. It has a population of 16,450 people in the two distinct areas: Pueblo (town) and Playa (beach), roughly 6 km apart.
Take me there!
The closest airport is Almeria which has a transfer time of 40 minutes.
Murcia International - Covera airport is also within easy reach with a journey time of just under one hour and ten minutes transfer time.
As a third alternative, Alicante airport is approximately one hour and a forty five minutes away from Vera.
What's the story with house prices?
2020 Vera Pueblo and surrounding Campo, it can be cost effective to buy into this postcode for value per square metre for smaller properties in the town but many Campo houses range from 400.000 to 750.000 Euros. – comparing Vera Playa (Averaging €300.000 for a Villa, €130.000 for a Townhouse and from approx. €80.000 for an apartment)
The average asking prices are:
2 Bedroom Apartment - 70,000€
2 Bedroom Townhouse - 105,000€
2 Bedroom Villa - 275,000€
3 Bedroom Apartment - 70,000€
3 Bedroom Townhouse - 135,000€
3 Bedroom Villa - 375,000€
Local amenities?
Vera is the nerve centre for the Eastern Lavente region.
The main supermarkets in Vera are: Lidl, Mercadona, MaxiDía and Iceland.
All the main Banks
Bus station with transport links all over Spain
Medical Centre
Oil station
Suitable types of Holiday activities in Vera and Vera Playa.
Fishing - Two Golf course either side of Vera -Horse riding - Tennis courts
Water Park - Water sports - Sailing - Mountain Biking - Diving - Swimming
Walking - Surfing - Water-skiing - Windsurfing - Hill Walking
Where should I get lunch?
One of the most known Restaurant in Vera is restaurante Terraza Carmona.
Other mentions are: Restaurante la brasa, Pepe bar's & grill, Bar la puerta de Vera.
So what's the big draw?
Vera has a great family atmosphere and a town where you can enjoy a lot of amenities. The historial parts where they conserved the older building form ancient times are there to be enjoyed:
- Church of San Agustín. It is part of the convent built in 1521 by Emperor Carlos V.
- Convent of the Minimum Fathers. Built in the 17th century
- Hermitage of Our Lady of Las Huertas. Built in the 19th century.
- Town hall. Building from the 16th and 17th centuries with a sober but beautiful appearance that was renovated in the 18th century.
- Cerro del Espíritu Santo. Viewpoint of the city where the remains of the Arab Vera are found.
- Main Square. Century XVI.
- Juan Cuadrado Museum. It has an interesting ethnographic room and an archaeological room that is worth visiting slowly.
- Roman remains. They are located in the vicinity of the hermitage of Nuestra Señora de las Huertas.
- Bullring. Built in the last century and it is the 2nd oldest bullring in Spain.
What do people love about it?
"Vera is a big town with many amenities but with the tranquility of a small town"
And... what do people NOT love about it?
The village has a large population in a smaller denisty, many of the residential communities are deemed as flats rather than apartments due to the limited outdoor space they have.
And what's my new local?
Some nice places to visit for a drink include: Cafe Bar Moya, Bar la amistad, Café Bar Lotus, Bar la plaza, bar el palmeral, bar bandi, bar Los Pepes, terrace bar Carmona, Café bar la terrace, bar la chispa and Paneas
Alternatives:
There's one of the best pizzerías in the village called Pizzeria Eclipse.
Other mentions are: jerry's Gratrogrill, Restaurante Made in Itala and Regio Mediterranea Gastrobar.
Schools and supermarkets?
In Vera there's one nursery in C / Cerezo nº13. Three primary Schools (CEIP Reyes Católicos, CEIP Ángel de Haro and CEIP Cuatro caños) and Two High Schools (IES El Palmeral and IES El Alyanub)
There's also a private School named Valdeserra on the way to the beach area from the village.
The main supermarkets in Vera are Lidl, MaxiDía, Mercadona and Iceland.
OK, I'm sold. Give me one piece of local trivia to impress a local
Cerro del Espíritu Santo is a small mountain located in the Almería town of Vera. Currently, the hill has become an icon for this town, being the geographical point where the city was born. It is currently highly affected by erosion. At the top is the statue of the Sacred Heart of Jesus, in a viewpoint from which you can see the entire area.
In 1518 there was a great earthquake that completely destroyed the city, leaving 150 victims in Vera alone. In addition, the earthquake also affected nearby populations, such as Mojácar, where there were 20 victims. Two years later, in 1520, it is said that three people who had survived launched three arrows, being the one that went the furthest that would mark the location of the new city.
During the early morning hours of March 5, 2011, a lightning bolt decapitated the head of the Christ, being later restored. This event caused fear among many residents of the area, as they believed that an ill omen would hover over the town. Some affirm that this event was a premonition of the earthquake in Lorca (city twinned with Vera) that occurred six days later, on March 11, which would have been divinely warned through this event.
Back to all areas
Back to all areas